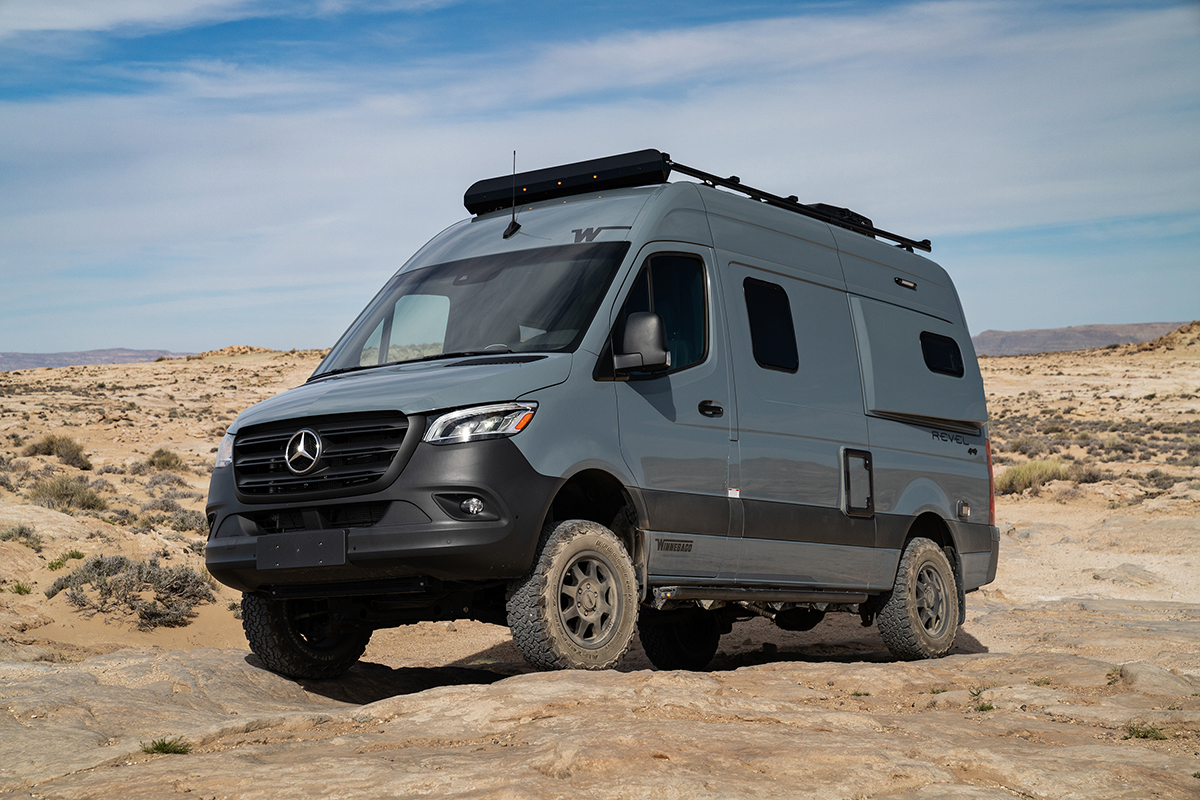 Winnebago Revel Product Information
Winnebago Revel Questions?
RVing: Do What you Love - Off Road 4x4 & AWD Adventures   
RVing allows you to do what you love! If you're someone who doesn't like a paved road to be your boundary, go "Off Road" in a Winnebago RV! However, not all RVs are equipped to allow you to do this. Winnebago has 3 models of 4×4 RVs in their Winnebago Class B Camper Van lineup and an AWD model  in the Winnebago Class C Lineup that allow to blaze your own trail.
WINNEBAGO CLASS B 4×4 MOTORHOMES
The Winnebago Era – Innovation meets diesel efficiency meets adventure in the Winnebago Era. One of the first Sprinter-based models in its class, the Era® is designed to be reliable and powerful, with on or off-road capabilities and premium interior styling. The Winnebago Era, built on the Mercedes-Benz Sprinter Chassis, allows you to tour in style and camp in comfort. The Winnebago Era is available with the option of adding on-demand 4WD with Hi/Lo Range allowing to take your adventures off the beaten path.
While you're "off the path" relax in comfort in the Era's sumptuous Ultraleather seating. Enjoy meals in the Era's upscale complete kitchen with elegant Corian countertops, a two or three-burner cooktop, stainless steel sink and compressor-driven refrigerator. Whether you're dining, working or just relaxing, the movable table and swivel cab seats in the Era provide options as open-ended as your plans. Warm up on cool mornings with the Era's reliable Truma Combi Eco Plus heating that lets you flex between gas and electric modes. Stay cool when needed in the Era with the Coleman-Mach 10 NDQ Air Conditioning System that is ultra-quiet while directional vents send cool air throughout the Era.
The Winnebago Boldt – The Winnebago Boldt is an energy and fuel-efficient, diesel-powered Camper Van built on the Mercedes Benz Sprinter Diesel VS30 Chassis. The Boldt is equipped with a great deal of storage and spacious floorplans, making it the perfect blend of innovation and comfort. The Boldt is also available with option of adding on-demand 4WD with Low Range with electronic stability and traction control.
When it comes time to relax in your Boldt, quickly and easily convert the bedroom and living area from 2 twin beds/seating surfaces to one large sleeping surface with the Boldt's flex bed system. Enjoy over 12,000  watt-hours of clean, quiet power with the Boldt's lithium-based Pure3 Advanced Energy System. Regardless of where your 4×4 adventures take you, stay comfortable in the Boldt with its state-of-the-art insulation, in-coach water lines and Truma Combi Eco Plus heating system. The Winnebago Boldt also provides the option of adding a rooftop mounted storage rack solution and a multi-point accessible ladder for convenient rooftop access. This allows for easy storage and access to gear as you adventure off road.
The Winnebago Revel – The Winnebago Revel is also built on the Mercedes Benz Sprinter VS30 Diesel Chassis. It comes with on-demand 4WD with Hi/Lo Range with electronic stability and traction control as a standard feature. The Revel provides the option of adding BF Goodrich T/A K02 all-terrain tires and performance wheels to help maneuverability with your off-road adventures.
Stay off grid longer and more comfortably in your Winnebago Revel with it's 320-amp hour Lithium-Ion battery providing 4,133 watt-hours. The Revel's hydronic heating system provides comfortable, quiet heating for cold mornings and can easily be controlled by a user-friendly LED touchscreen panel. The easy to maintain surfaces in the Revel  heavy-duty vinyl flooring, allow for easy cleanup after your off-road adventures. The function-fueled design of the Winnebago Revel, powered by the reliability of a 3-liter turbo diesel engine and the freedom of on-demand 4WD means going off-road is never off the table. The Winnebago Revel allows you to treat roads more like "suggestions."
The Winnebago EKKO – The Winnebago EKKO is built on the Ford  AWD Transit Chassis and has a 3.5L EcoBoost V6 gas engine with 10-speed automatic Selectshift transmission with overdrive.  The EKKO combines the efficiency of a campervan with the added capacity of a class C coach to create an entirely new type of RV.
The EKKO has a 31-gallon fuel tank which extends it's driving range. You can camp almost anywhere in the EKKO with it's (3) solar panels that pump out 455-watts and it's second alternator dedicated to charging the batteries while driving. The EKKO includes a 320-amp-hour lithium-ion battery, with the option to add another, to provide further independence off grid. The EKKO also boasts a 50-gallon freshwater tank plus proportionate waste tanks to make extended stays possible. The EKKO's standard all-wheel-drive capability goes where other motorhomes can't, yet with its van size, the EKKO is easy to drive and easy to park.
If off road adventure is what you love, Winnebago offers a number of Campervan Class B motorhomes and Class C motorhomes that allow you to do just that.  Contact a Lichtsinn RV sales consultant today to do what you love, go off-roading, in a Winnebago 4×4 or AWD RV from Lichtsinn RV!
See our Winnebago Revel Inventory Here.
Find Winnebago Revels for Sale, HD video and more information at LichtsinnRV.com